Creating Risk Management Solutions for Discerning Clients
One size rarely fits all. Neither do standard personal insurance products. Our clients choose Gallagher Personal Insurance Services because we understand their high-net-worth lifestyles and provide tailored solutions.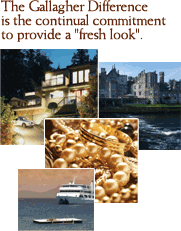 Gallagher Personal Insurance Services takes a thoughtful approach to the risk analysis process. In this process, we present all viable options and equip our client's to make informed decisions. Together we create risk management solutions tailored to our clients needs.
The Gallagher Difference
During our initial review, and continuing with subsequent annual reviews, we work to uncover and address all of our client's exposures. We do not assume an existing program, even one of our own, is beyond improvement. The Gallagher Difference is the continual commitment to provide a "fresh look."
Combining our market leverage, proprietary products, and know-how, with a "fresh look" approach, Gallagher Personal Insurance Services offers an unmatched level of sophisticated risk management and personalized service.