Brian Kingman
Managing Director
818.539.1220
Fax 818.539.1520
Send e-mail
Konrad Dowling
Managing Director
818.539.1221
Fax 818.539.1521
Send e-mail
Shirley Griffith-Bourke, ARM
Managing Director
818.539.1239
Fax 818.539.1539
Send e-mail
Diane Pinter
Managing Director - Business Management
818.539.1271
Fax 818.539.1571
Send e-mail
Kevin O'Shea
Director - European Operations
+44 (0).1753 785859
Send e-mail
Terry O'Neill
Area Senior Vice President
+44 (0).1753 785856
Send e-mail
Susan Wallis, CAIB, CIP, CRM
Senior Vice President - Canada
416.620.2645
Fax 416.620.1853
800.636.8143
Send e-mail

Gallagher Entertainment, a leader within the entertainment insurance industry, is uniquely positioned in this industry, primarily due to the experience, talent and comprehensive knowledge of the people who comprise it. Our team has a combined total of over 350 years in the entertainment insurance business, and has worked with all of the major film studios as well as independent production companies
In fact, these individuals and/or the three Gallagher Entertainment consultants have brokered the insurance for 90% of the American Film Institute's Top 100 Films. The Managing Directors have been involved in and advocated for our clients for many high-profile claims, including those involving Hurricane Katrina, 9/11 production claims, and serious cast losses, involving abandonment of a film or substantial re-shoot costs.
Our staff represents the best of the business. They understand the needs of the client and are committed to excellence. Every phase of a production, from prep to post, is handled efficiently and proactively. We monitor daily production matters as well as any issues that require specialized attention. Working as a unified team, we can find the best solutions for any situation that arises.
Personal Lines
We are a leader in the Personal Lines arena as well, with an emphasis on high-valued and difficult to place insurance coverages worldwide. Through our dedication to product knowledge, we are able to find innovative solutions for our VIP clientele. In conjunction with Personal Lines coverage, we also handle Commercial Lines coverage for Loan-Outs and Shell Corps.
Gallagher Entertainment is focused on serving our clients, and we continue to find new and innovative solutions in response to the ever-changing entertainment industry.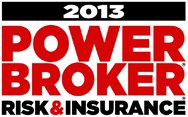 Meet Our Power Brokers!
Entertainment
Konrad Dowling
In addition, Dave Harman and Brian Kingman were recognized by Risk & Insurance as a Power Broker finalists.
Hurricane Sandy's Effects on the Entertainment Industry.
Gallagher's Brian Kingman quoted in David Lieberman's article at deadline.com